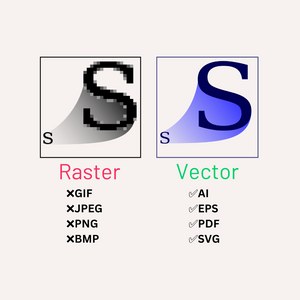 Product description
What files can be converted?

Raster Images: JPEG, PNG, GIF, BMP, or TIFF.

Details 🖊️
✅ Vectorised logos can be resized without losing quality or clarity. They are resolution-independent, meaning they can be scaled up or down to any size for different applications.

✅ Ensure consistent branding across various platforms and materials. Whether the logo is used on a website, printed collateral, or promotional merchandise, the vector file allows for precise reproduction, maintaining the integrity of the design and brand identity.

✅ Vector files are editable, allowing for easy modifications or updates to the logo design. Colors, shapes, and elements can be adjusted without compromising the quality of the logo.
✅ Vector files are preferred in print production because they provide high-quality, accurate results.

Print Only - What we need from you 🖨️
1. 📧 Look out for an email from us, which will contain a vectorising form.
2. 🖋️ Fill out the form thoroughly, ensuring to provide all the necessary details.
          - 💾 Upload your files - Raster Images: JPEG, PNG, GIF, BMP, or TIFF.
          - 📰 If you have a Canva link, please provide it in the notes section of the form.
3. 📤 Submit the completed form.
4. 🖨️ Once we receive your form out design team will prepare vectorising your logo.
5. 📧 We will send you the design files via email.